New Work 2020-2021
The ongoing pandemic isolation of last year and this year has motivated me to consider being spare in color and shape. Isolation from families and friends has led to new rhythms and structures in my work. I still make abstractions with my personal language of form, gesture and line, but something has changed. The work mostly consists of big white shapes, some alone and some coming close to each other. They are reminiscent of land forms, but not landscapes, per se. They are unknown to me, much like the times we are in.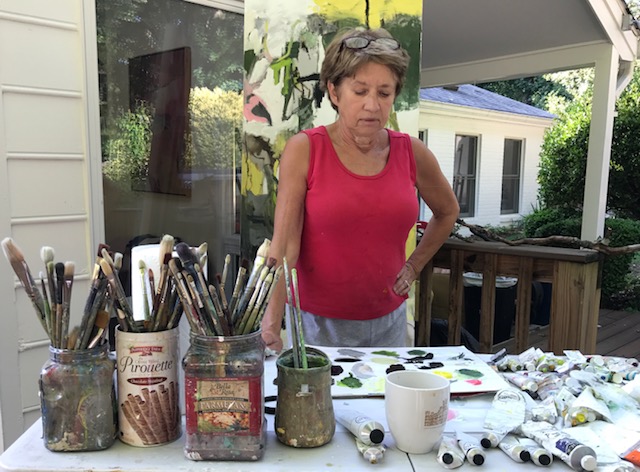 About Joyce McCarten's most recent paintings: 2019 My Pirate Days
The recent abstract paintings are a reflection of my 12-year-marriage to Walter Smith, my late husband.
I read once that grief is better when you begin to remember all the good things about a loved one who has
passed away. So I reminded myself of good memories and made abstract paintings about them. For the viewer,
they are abstract expressionist paintings. For me, they are reminder of the fun and love of our marriage.
Walter Smith was a businessman, a professional actor and a man of integrity and fun. After diagnosis and treatment
of cancer in 2006, it was his intention to life life to the fullest. We had ten years of "stolen time" and our marriage
was filled with great love and joy. Each painting in this show expresses some of the joy we shared in specific
locations or in the humor we saw in today's memes.
I use color, shape ad gesture in oil paint to capture the excitement of a life well lived.
While I grieve his loss, I celebrate him for all his quirkiness, his passions and his love of life. I will move foward
without him, but first, I will look back to my "pirate days" with Walter Smith.
About Joyce McCarten's most recent paintings: (2017) Peace of Wild Things
The title of this series comes from a poem by Wendell Berry, "The Peace of Wild Things"
The "wild things" are those things not made by humans. The symmetry of an ivy leaf, the perfection of a lily; all are things that come without the effort of man's hand. These years, I mark the passing of time by engaging in the seasons. Each season is a ritual full of rawness, power and beauty. Most of my paintings are made or at least begun, outside in my suburban backyard where I can experience the full effects of God's creation.
My images are a direct response to what is going on outside. I take in the plants, the trees, the air and all the elements of each season. It is an emotional response that attempts more than a description of a place or a flower. I create a visceral experience through mark making and gestural paint application. Recently, the paintings have become frenetic and I have resolved to let them have their way.
About Joyce McCaten's African Series
Joyce McCarten makes layered abstract paintings that are metaphors for the unpredictable nature of life. She uses a personal language of form, gesture and color in oil paint to allow the unpredictable to emerge.
McCarten is an avid traveler, especially to the hidden places in third world countries. She visits those places that only health workers and missionaries dare to enter. Her visit to the west African country of Niger, 15 years ago, had great impact on her life and art and she has chosen to make this the inspiration for her recent work.
She went to Niger to visit and take supplies to a missionary family living in the bush town of Tahoua. They introduced her to the Woddabe-Fulani people, one of the last nomadic people groups in the world. The bush desert and the nearby towns and markets appeared to be from an ancient world. The desert was green after a brief season of rain, yet there were no bushes in the bush. There was a donkey parking lot, huge wooden spools for bed frames and goats that were prized possessions. The people were beautiful; the men shaved their foreheads to enhance their beauty and the women piled their hair low on their foreheads. The colors of the robes brightened the drab, drough-ridden landscape.
Many of the places McCarten visited are no long accessible to the Western world. Political ramifications have come to the bush desert of Niger. Missionary friends have moved to a larger city in a district where there is less danger. Many of the Woddabe people have moved to the cities because the desert could no longer support their goat herds. Change comes, even for desert nomads.
The way we embrace change is an important subject for McCarten. Whether we rail against it or welcome it, change comes. Though we try, we cannot predict all the changes that will come in our personal or corporate lives. In her painting process, McCarten allows the colors and shapes to change to improve their relationships with one another. During the painting process, the unpredictable often shows up and she is surprised and challenged. Allowing changes to her paintings has given McCarten an idea about how to welcome unpredictable changes throughout her own life.
Artist Statement for Bones paintings - 2015
The elegant shape of the human pelvis and femur has been a constant source of influence for me since my earliest days of art making. The solid forms, so rhythmically sculpted, and the perfectly designed structures have given me vital information for many of the landscape, still life, and abstract paintings of the last 25 years.
This knowledge all came together in the summer of 2014. As I glared at my x-rays showing a deteriorating hip replacement and a disintegrating Greater Trochanter, I saw past the dysfunctions to the beauty of the bones. My bones.
As I searched for medical treatments, I also searched for more and more ways to look at the bones. My studio was cluttered with plaster casts of the pelvis and femur and antique drawings made from early explorations of medical corpses. I studied them sideways, upside down and inside out.
Each drawing and painting began to take on a life of its own. Some are idealized views of how I wish my joint had held together. Others represent my desire to see the bones as abstract forms. Making this work reminded me that God's handiwork is beautiful, no matter its condition. Some of us have obvious disabilities, and some of us do not. In some way, however, we all suffer, we are all vulnerable and we are all weak. That is being human and that is what I see in these bones.
Joyce McCarten